News Waali latest news updates.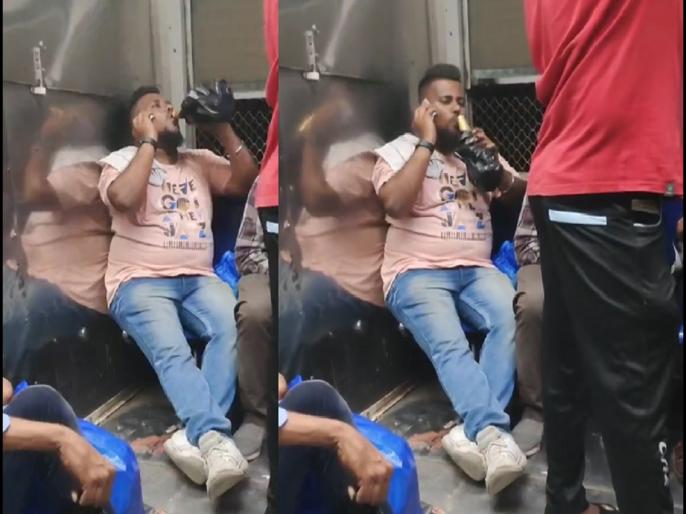 Drinking Alcohol In Local Mumbai : Many people are often seen eating in local trains which are the lifeline of Mumbai city. But, now a video of a person drinking alcohol in front of everyone in this local train has come to light. The video of Mumbai local train is going viral on social media. In this video, he is seen drinking freely in front of everyone.
A young man was drinking alcohol during the journey in a local train in Mumbai. At this time there were many others in that section, but without fearing them, he began to drink. This local train was heading towards Panvel station from Wadala Road. No one else in the coach stopped him this time. One of them secretly shot a video of the young man.
Dear Mumbai police
2 days ago I traveled on the local train.
This incident happened on Vadala road to Panvel station
Kya train me drink karna allow hai vo bhi sab ke saamne
Iske upar kya action legi Mumbai police @MumbaiPolice@neuzboy@NeonMan_01pic.twitter.com/gwg8xN7r41

— S¥NDICATE (@s_indicate) March 13, 2023
This video has now gone viral on social media. The video was shared on social media by a Twitter user named @s_indicate. Sharing this video, he has demanded that the Mumbai Police take action against this person. He captioned the video, "Is anyone allowed to drink alcohol in public on a train?" He asked that question.
Earlier, the gaming video went viral
Even earlier, a shocking video came out from Mumbai local. Some people were seen gambling in the train compartment in front of everyone. It was said then that they all do this kind of thing every day in Mumbai local trains. The Mumbai Police is investigating the matter after the video surfaced.
Web title: Video : Man drinks alcohol during the day on a Mumbai local train; A call to action after a video goes viral
Get Latest Marathi news , Maharashtra News a Live Marathi News Headlines of Politics, Sports, Entertainment, Business and hyperlocal news from all Maharashtra cities.
.