News Waali latest news updates.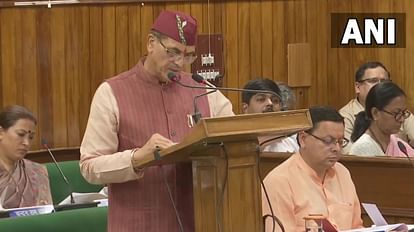 Finance Minister Premchand Aggarwal presenting the budget
– Photo: Amar Ujala File Photo
Expansion
The Dhami government's budget will be presented in the Bharadisain assembly on Wednesday. Finance Minister Premchand Aggarwal will present the budget at 2 pm. A budget of Rs 79,000 crore is estimated for the financial year 2023-24. The state cabinet has already approved the budget proposal.
Uttarakhand Budget Session: Opposition uproar in the House, 15 Congress MLAs suspended for a day from the session
The agenda for the next day was decided at the Business Advisory Committee meeting. On March 16, after the discussion on the budget, the appropriation bill will be passed and with this the proceedings of the house will be postponed sine die. That is, the session will run until March 16 only.
According to the Finance Minister, the budget will be inclusive and will have special provisions for youth, women, farmers and traders, laborers and job seekers. Efforts have been made to incorporate the important suggestions received from the public through dialogues in the budget announcements.
The budget will decide the direction of a strong Uttarakhand
According to Aggarwal, the government budget will play an important role in making Uttarakhand the leading state of the country by 2025. Whatever priorities the government has set for the development of the state, its insight will be seen in the budget. In this context, there is a special significance to this budget, which is going to be presented in the summer capital.
,