News Waali latest news updates.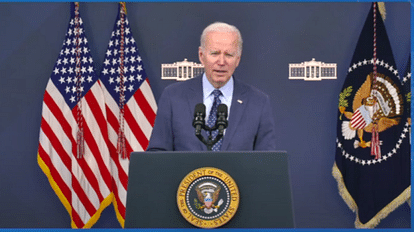 US President Joe Biden.
Photo: ANI
Expansion
US President Joe Biden said on Monday (local time) that the US banking system is completely safe even after the collapse of two US banks – Silicon Valley Bank and Signature Bank. Biden said small businesses across the country that had accounts at Silicon Valley Bank and Signature Bank can breathe easy knowing they will be able to pay their workers. Tax payers will not have to spend a single penny in this. This will be paid together with the fees that banks deposit into the Deposit Insurance Fund.
However, the failures still raised concerns among customers who deposit their money in other banks of a similar size. Significantly, US regulators shut down the Silicon Valley bank on Friday after it tested the run of a traditional bank. After that the depositors rushed to withdraw their money at the same time. It is the second largest banking failure in US history, after the failure of Washington Mutual during the 2008 recession.
State regulators also shut down Signature Bank of New York on Sunday. This made it the third biggest failure in US banking history. News of Signature Bank's failure followed the closing of Silicon Valley Bank on Friday.
Biden blamed the previous US administration
Meanwhile Biden emphasized that the US banking system remains "safe". He described how his administration is taking steps to prevent a bank collapse. He blamed the previous US administration for the banking failure. Biden said that during the Obama-Biden administration, we included stricter requirements on banks like Silicon Valley Bank and Signature Bank, including the Dodd-Frank Act, to ensure that the crisis we saw in 2008 should not happen again. Unfortunately, the last administration rolled back some of these requirements.
I am going to ask Congress and banking regulators to strengthen the rules for banks so that this type of banking failure does not happen again and to protect American jobs and small businesses. Meanwhile, Monday morning at First Republic Bank in Studio City saw a steady stream of customers withdrawing their money and depositing it in larger banks. This comes amid concerns about what could happen next after the second and third largest bank failures in US history.
First Republic shares plunged 62.6 percent, ABC7 reported, even after the bank said Sunday it had strengthened its financial position with cash from the Federal Reserve and JPMorgan Chase. In the midst of this turmoil, First Republic responded to eyewitness news in an attempt to reassure its panicked customers.
We open accounts, provide loans, process transactions and provide specialized service through our offices and online to meet the needs of our customers, First Republic said in a statement.
,