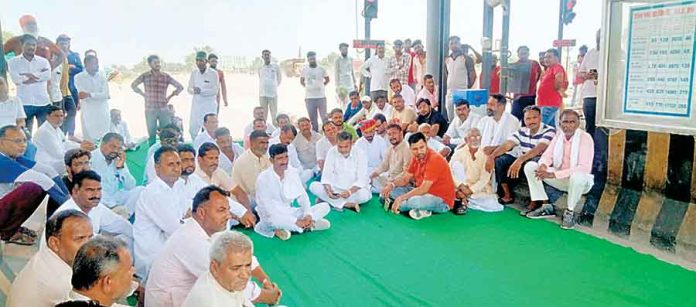 Ghadsana (True News). Leaders of the ruling class and Sangharsha Samiti staged a dharna on Friday morning at the toll plaza in Chowk 12 MLD, which is three kilometers away from the town, under the leadership of former MLA Pawan Duggal to free the toll tax of the nearby gram panchayats. He protested twice. Moreover, negotiations were held between the contractor of the toll plaza. In the second consultation, it was agreed to release the tolls of 8 gram panchayats under the subdivision.
Eight panchayats in Ghadsana region were made toll free during this period. Based on Aadhaar card, no toll will be collected from the residents of this panchayat. Former MLA Pawan Duggal said that there is no reason to negotiate with the contractor here. The contractor leaves today. We do not come to protest again and again. A direct discussion between the administration and this voice reaches the government so that it is never distracted. After this Toll Free Gram Panchayat 3 STR, Gram Panchayat 24 ASC, Gram Panchayat, Gram Panchayat 2 GD, Gram Panchayat 2 MLD, Gram Panchayat 6 DD, Gram Panchayat 5 MLD, Gram Panchayat 2 STR, Gram Panchayat 9 MD exempted from toll tax. Hundreds of protestors sit on dharna. Police Station Officer Jitendra Swamy, Tehsildar Jitendra Shekawat, Deputy Tehsildar, Toll Booth Contractor, Manager and prominent leaders participated in the discussion program.
Also Read:- Three people died in an accident between a bolero and a trailer in Bhilwara district
BJP leader, former district deputy chief Nakshatra Singh Ramana, senior leader Harsh Chaudhary, former president of the Chamber of Commerce Mangat Aggarwal, former MLA Pawan Duggal, deputy chief Vinod Chimpa, senior leader Anoop Singh Ramgarhia, Sandeep Gill, Sarpanch Harpreet Singh, Sarpanch Sandeep at the protest site. Dhillon, Cooperative Committee President Vijendra Bhambhu, Gurupege Gill, Youth Leader Virdeep Singh, Falaksher, Zilla Parishad Member Dalip Meghwal Youth Leader, Sarwar Jeera, Dalip Saharan, BJP Leader Keshav Pareek, Om Yadav, Jeep Stand Union Rajasthan State President Jaskaransih Sandhu. , attended by hundreds of people including Aam Aadmi Party Legislative Assembly Speaker Sushil Bishnoi alias (Pritam Bishnoi) and former Business Board President Mangat Aggarwal. Negotiations ended after 6 hours of hard work. Senior leader Harsh Chaudhary and former president of Chamber of Commerce Mangat Aggarwal played a major role in the protest.
Other Update To achieve us Facebook And TwitterFollow on Instagram, LinkedIn, YouTube.