News Waali latest news updates.
Web Desk: After issuing a non-bailable arrest warrant for Pakistan Tehreek-e-Insaf (PTI) Chairman Imran Khan, a team of Islamabad Police has arrived at Zaman Park along with a heavy contingent of Lahore Police.
Police armored car has also reached Zaman Park, PTI workers are also coming to Zaman Park, PTI staff are also present. Islamabad DIG Operations Shehzad Bukhari has also reached Zaman Park to arrest Imran Khan. They have reached and lead the Islamabad police. A policeman also holds a placard with a copy of the notice in his hand.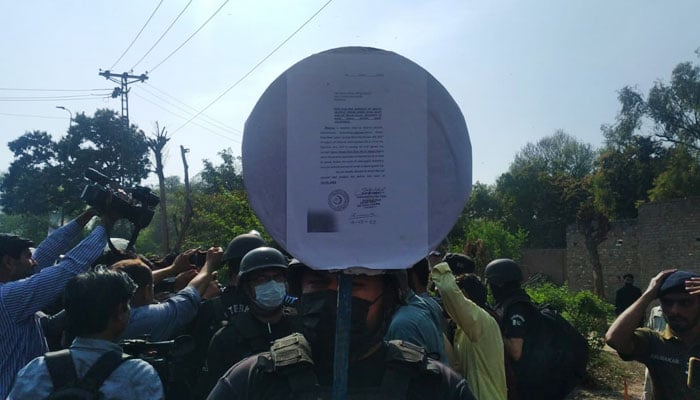 Police sources say that personnel are being gathered at all police stations in the city, tear gas shells have also been provided to the anti-rights unit, more than 1,000 personnel have been ordered to be on alert DIG Operations Islamabad Shehzad. he has an arrest warrant for Imran Khan, which Zaman Park has come to comply with. A journalist asked, "Where will you arrest Imran Khan and take him?" About this he said let it happen first and then we will continue to tell you that after the arrest warrant of PTI Chairman Imran Khan was issued, Islamabad Police arrived Lahore last day, where CPSH Lahore Bilal Siddique Kamiana arrived. It was held consultative meeting under the chairmanship. In the meeting, various options and procedures were considered regarding the arrest of Imran Khan According to the sources, preparations have been completed in case of reaction from PTI workers, workers and local Lists Lahore police say that there will be those who obstruct legal proceedings are dealt with harshly.
On the other hand, PTI leader Farrukh Habib has expressed his confidence in the media talk that the court will also suspend this warrant against Imran Khan, Imran Khan's security application is also pending, Imran Khan's life threatened Yes, Imran Khan's security application pending in various courts. Farrukh Habib said that I don't think police should take any kind of extreme measures, they don't want to put Imran Khan in such a situation where someone will attack him again, if police has brought any warning then give it . , we will review it We are also challenging the same notice in court today.
Tehreek-e-Insaf leader Hasan Niazi said in a media interview that we will accept the warrant and challenge it in the high court It is said that the workers are gathered here, the workers are angry after Zal Shah's murder, they have told the police to check the availability of Imran Khan, if he is at home, inform them If he did not appear, two Islamabad courts issued separate non-bailable arrest warrants for Imran Khan last day. Imran Khan did not appear in court due to security concerns despite being summoned yesterday, but he led a PTI rally in Lahore.
.