News Waali latest news updates.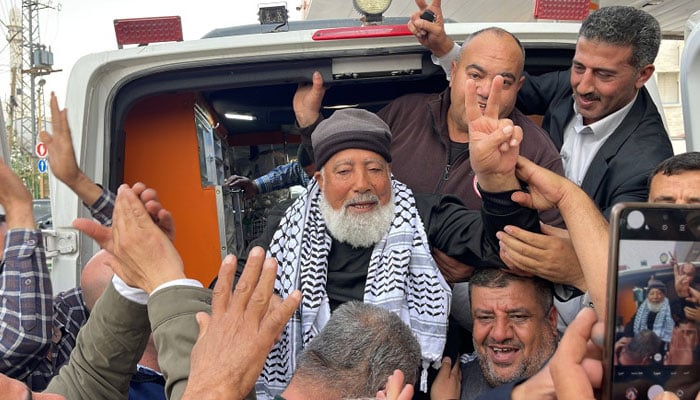 The oldest Palestinian prisoner, who had been imprisoned for 17 years in an Israeli prison for arms smuggling, was released on Monday.
A spokesman for the Palestinian Prisoners' Club told the media that 83-year-old Fawad Shobaki had been released from Ashkelon prison and Shobaki's son, Hazem, confirmed that he was about to return home.
According to the report, as Fawad Shubaki arrived at the grave of late Palestinian leader Yasser Arafat in Ramallah, who was his close associate, Palestinian officials rushed to meet the elderly man wrapped in a Palestinian keffiyeh.
On the occasion, every small child waved the Tehreek-e-Fateh flag, and girls were seen proudly wearing T-shirts emblazoned with Fawad Shubaki's youthful pictures.
After praying at Yasser Arafat's tomb, Fawad Shubaki said that we will follow the same path that Yasser Arafat led us to follow, we will continue his resistance against oppression at any cost. Why don't you pay, when it comes for our country, our people and those who were martyred while walking on the right path, our lives are in vain.
It should be noted that Fawad Shubaki, a senior member of Tehreek-e-Fath, was arrested by the Palestinian security forces in 2002 at the height of the second uprising.
They were trying to smuggle weapons from Iran to the coastal enclave of Gaza on board the Crane A, which was seized by Israel in the Red Sea after the Israeli army claimed the vessel was loaded with 50 tonnes of weapons. then are held by the Palestinian Authority in the city of Jericho on the West Bank under American and British surveillance.
In 2006, Israeli forces stormed the prison and Fawad Shubaki was taken to Israel.
.