News Waali latest news updates.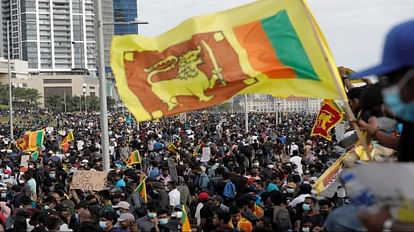 Sri Lanka
– Photo : Agency (File Photo)
Expansion
There is a new wave of public protests in Sri Lanka. Trade unions have announced a nationwide strike from midnight on Tuesday. At the call of these unions, workers in power and energy, medical, banking and many other large services are going on strike to protest against the actions taken under pressure from the International Monetary Fund (IMF).
A press conference was organized on Monday by the trade unions to give information about the programs related to the strike. In it, Anand Palita, convenor of Samagi Trade Union Collective, said that trade unions will "decide the future" of this government if it does not roll back the increase in income tax and cut taxes, including electricity tax. Trade unions have alleged that Ranil Wickremesinghe's government is preparing to sell the Ceylon Electricity Board (CFB), now a profitable public sector company.
Palita said – 'If the government does not fulfill the demands, then from midnight March 14, trains will stop running, electricity supply will be cut, doctors will stop working and universities, sectors energy and banking etc. completely still. After that it will be a matter of whether this government survives or goes away.
According to media reports, medical doctors are already agitated in many states and because of this the entire health sector of the country has almost come to a standstill. Patients face a lot of trouble because of this. Doctors also oppose the higher tax in accordance with the terms of the IMF. The doctors' agitation has seriously affected health services in the western, southern, central and eastern states.
Harita Aluthage, secretary of the Government Medical Officers Association, said on Monday that the strike could still be avoided if the government found a solution. He said-'At the moment we have decided that doctors across the country will go on strike from eight o'clock on Wednesday morning.' The nurses' union has also decided to join the strike.
According to a report by the website economnext.com, a strike-like atmosphere had developed in the banks on Monday itself. Most of the banks were deserted. On the other hand, university teachers' unions have announced that they will stop teaching from Wednesday. Joseph Stalin, secretary general of the Ceylon Teachers' Union, said on Monday that classes in 10,172 schools across the country would also be suspended from Wednesday. He said- 'One without a mandate spreads this illusion that he has the right to take such action. We, the government, are going to take our steps against this confusion.
Stalin called this a historic occasion on which the entire working class of the country has united. The Wickremesinghe government has increased the income tax rate to 36 percent in line with IMF terms. On the other hand, there has been a huge increase in the electricity tax. Because of this, the already troubled life of the public has become more difficult.
,