PM Modi calls Jaishankar after midnight: The call came to External Affairs Minister SG Shankar around midnight. He was picking up the phone in surprise, the Prime Minister was on the other side.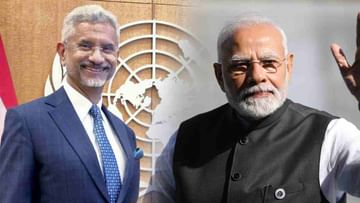 Jaishankar was surprised by the Prime Minister's call in the middle of the night
Washington: Around midnight, Foreign Minister SG Shankar received a call. He was surprised on the phone. On the other side is Prime Minister Narendra Modi. His first question was – 'Jajji ho?…he is watching TV well…so is he on his way? On Friday (September 23), a book titled 'Moody at 20: Dreams Meet Delivery' was being discussed in New York, USA. Speaking in the meeting, the foreign minister praised the leadership skills of the prime minister. And at that time SG Shankar told this unknown story.
The incident was in 2016. An attack was made on the Indian consulate in Mazar-i-Sharif, Afghanistan. Then SG Shankar got a surprise midnight call from the Prime Minister. Jaishankar said, "It was past midnight by then. Our consulate was attacked in Mazar-i-Sharif, Afghanistan. We were on the phone trying to figure out what happened. At that moment my phone rang. I was a little surprised. Usually when the Prime Minister calls, the identity of the caller is not known. Another contacted the phone, then handed it over to the Prime Minister. But, in this matter, the Prime Minister himself called directly.
Then the Prime Minister asked him about the situation in Afghanistan. The foreign minister said that he has informed Prime Minister Modi that aid is being sent. Modi said that he should be informed personally if the situation is normal. Jaishankar said, "I told him that it might take a few more hours. I will call his office after the operation is over. In response, the Prime Minister said, 'Don't call me.'
On this occasion, he became aware of Prime Minister Narendra Modi's sense of responsibility. However, the foreign minister said that even before his first meeting with the prime minister, he liked Narendra Modi. Claiming to be a 'micro manager', he says, "I can stay calm in times of crisis." But the preparation he took was admirable.
Currently, S Jaishankar is in New York to attend the annual session of the United Nations General Assembly. Apart from the important meeting, he also held bilateral and tripartite meetings with ambassadors and leaders of different countries.
.