News Waali latest news updates.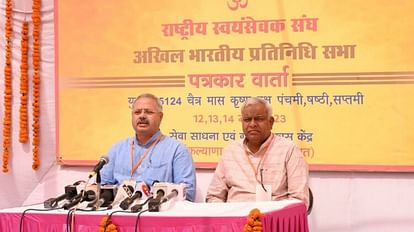 RSS: Chief Publicity Officer of All India Rashtriya Swayamsevak Sangh Sunil Ambekar
– Photo: Agency
Expansion
The Rashtriya Swayamsevak Sangh (RSS) is seriously considering increasing the role of women in social work. Women volunteers have been given a more powerful role in proceeding with the programs launched by the organization with the aim of empowering women, family welfare, awareness to eliminate gender discrimination, awareness in families of cultural work, promoting the environment and harmony between different sections of society. May go. These programs can be conducted through the Rashtra Sevika Samiti, the women's wing of the RSS.
According to RSS sources, issues related to this may be discussed in the All India Representative Assembly meeting of the organization being organized in Samalkha, Haryana. After discussion, a decision related to this can also be passed. The reports passed in the Akhil Bharatiya Pratinidhi Sabha, the most powerful organization of the Sangh, are implemented in the respective areas through volunteers in the coming years. In this sense, this proposal is considered very important.
By the RSS centenary, the Sangh plans to reach every block level in the country. However, it operates 68,651 branches in 42,613 areas of the country. There is a plan to increase this to one lakh branches. A separate branch program for women is run by Rashtra Sevika Samiti. The Sangh is also considering increasing women's branches. It is intended to double the women's wing. For this, a separate campaign will be conducted through Rashtra Sevika Samiti.
,