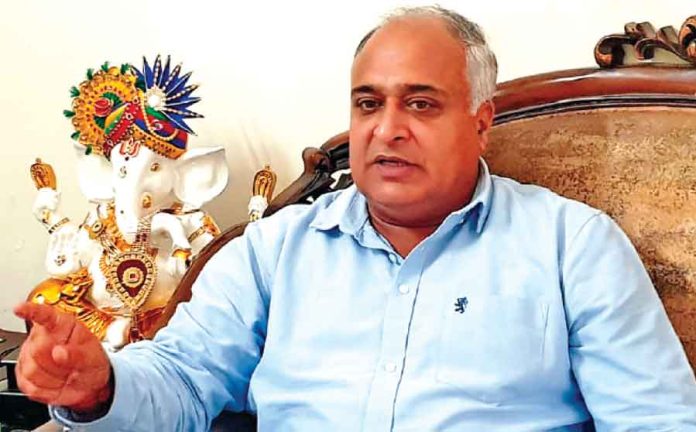 After 11 years of solid waste project up in the air, mayor holds officials accountable
The authorities are not serious about the decisions taken for the convenience of the people
Despite several meetings, the problem remains
Patiala (Real/Khushvir Singh Tour) Politics also heated up after the National Green Tribunal imposed a fine of Rs 2000 crore on the Punjab government for not managing garbage properly. The solid waste management plant in Patiala has been stuck in the government records for 11 years. Here, the Mayor of Patiala took the officials in hand and asked them to pay the said fine amount from the pockets of these officials instead of the Punjab exchequer. It is noteworthy that in the year 2011, the responsibility of setting up a solid waste management plant was handed over to Patiala Corporation. On government orders, the Corporation has leased 20.33 acres of Panchayat land at Duddar village for Rs.10 lakh per annum, but due to technical reasons, the tender for solid waste management plant could not be done.
Also Read:- As the governor canceled the meeting, the 'AAP' MLAs walked out in shock
At that time, no action was taken against the local body authorities, due to which the tender of this important project failed. According to Patiala Mayor Sanjeev Bittu, after this the new government has prepared a project to set up this project in Mohali. A joint tender was issued for this plant on 3 August 2018 for Patiala and Gamada, but that too failed to yield any results. For the first time in April 2011, the tender for the solid waste management plant was not completed due to technical reasons, and in September 2016, the tender failed for the second time due to technical reasons. As per Solid Waste Rule 2016, Patiala Municipal Corporation has to ensure door-to-door collection of garbage. The collected waste should be separated into dry and wet.
Two years after the notification in 2016, solid waste management plants have not been set up in Patiala and Mohali. As a result of untimely decisions, the National Green Tribunal today awarded Punjab Rs. 2000 crores as a huge fine, the Punjab government will somehow impose on more than three crore people of Punjab. According to the mayor, they have set up garbage disposal, remediation plants at the main dumping ground, door-to-door garbage collection as well as sammy underground bins, compost pits, public awareness campaigns and material recovery facility centers to handle the wet. and dry waste.Proper management of waste was attempted, but huge projects were sacrificed due to negligence of state level authorities.
Recovery of fines from salary, pension or property of responsible officers: Sanjeev Sharma
Patiala Mayor Sanjeev Sharma Bittu made it clear that it would be an injustice to the people of Punjab if the Punjab government ignores the responsible officials by paying fines at their level. He said that this fine should be collected from the salary, pension or property of the person responsible. Major projects that cannot be completed by state, district or corporation level authorities are actually directly liable for this penalty, said the mayor. Sanjeev Bittu demanded from the Punjab government that if CM Bhagwantman's case is investigated, it will set a new example by collecting such amount of fine from the responsible officials and that no officer will be careless in this case in future.
Other Update To achieve us Facebook And TwitterFollow on Instagram, LinkedIn, YouTube.