RSS chief Mohan Bhagwat visits mosque: On Thursday (September 22), Mohan Bhagwat met All India Imams Organization chief Umar Ahmed Aliyasi at a mosque in New Delhi.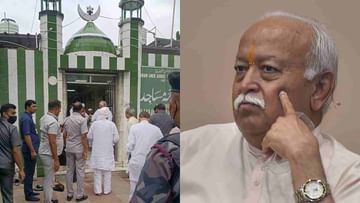 Imam and other Muslim intellectuals welcomed Mohan Bhagwat in the mosque
New Delhi: RSS chief Mohan Bhagwat stepped into the mosque. For the past few days, Muslim leaders have been meeting intellectuals one after another with the aim of increasing public relations with the Muslim community. As part of the move, Mohan Bhagwat met Umar Ahmed Ilyasi, head of the All India Imams Organization, at a mosque in New Delhi on Thursday (September 22). His brother Sohail Ilyasi said that Mohan Bhagwat was invited on the occasion of their father's death.
A closed room meeting was held between the two scholars for an hour. Mohan Bhagwat was accompanied by RSS co-editors Krishna Gopal, Ram Lal and Indresh Kumar. After the meeting, Umar Ahmed Ilyasi called Bhagwat "Father of State". He said, "He is the president." We discussed various matters to strengthen the unity of the country. Bhagwat stopped him and said, the father of the nation is one, all others are the children of Mother India.
Ilyasi also said, "Bhagotji's visit will send a message to everyone that we are all working to strengthen India. Our DNA is the same, only our religion, the way we worship God is different. Incidentally." The RSS chief has said many times before that the DNA of Hindus and Indian Muslims is the same.
It is known that in today's meeting, he opposed declaring Hindus as infidels. He said that it is sending a wrong message to the public. According to Muslims, the word kafir is actually used in different meanings. But, somewhere this word is used in a derogatory sense. They complained to Mohan Bhagwat that the words "Pakistani" and "Jihad" were being used against Muslims.
.