News Waali latest news updates.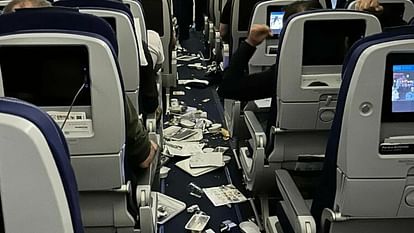 a view from inside the plane after the shake-up
– Photo: Social Media
Expansion
A Lufthansa airline plane suffered a jolt in mid-air, injuring seven passengers on board. After this, the plane had to make an emergency landing in Washington, USA. Surprisingly, before getting off the plane, the airline asked all passengers to delete photos and videos of the incident. Say, after the shock, the food items in the plane were scattered here and there. However, despite this, some pictures and videos of the plane are going viral on social media.
A passenger on board said he was shocked to hear he was asked to delete photos and videos of the incident. The incident happened on March 1, when the Lufthansa airline's Airbus A330-300 was going from Austin in the United States to Frankfurt. On the way, when the plane was at an altitude of about 37 thousand feet, it experienced several tremors. After that the plane made an emergency landing at Dulles Airport in Washington, USA. Due to the tremors, seven people on board the plane were injured, who were later admitted to hospital.
also read this – Lufthansa: Technical fault in Lufthansa Airlines system, planes stopped from flying, many flights canceled
It can be seen in the pictures that, due to the tremors, the food items in the plane are scattered here and there. The aircraft also suffered minor damage. Passengers have received minor injuries due to the tremors. A passenger's hip bone was also broken. Some passengers in the plane posted on social media that the plane fell about 4 thousand feet, and the passengers in the plane were shocked as a result.
On 1 March, #lufthansa Flight Airbus A330-300 (D-AIKK). #LH469 from #Austin i #Frankfurt diverted at Washington Dulles Int'l Airport after the plane encountered severe turbulence while flying over Tennessee at an altitude of 37000 feet. Seven people injured and in hospital.

© Stryker Medhel pic.twitter.com/Txtkx2isI6

— FlightMode (@FlightModeblog) March 3, 2023
Let us tell you that tremors are felt many times during air travel. These tremors occur due to the friction between the ground and the air, due to an uneven geographical area or due to human error. The intensity of the tremors depends on the speed of the wind blowing on the ground.
,