News Waali latest news updates.
Juergen Klopp is not throwing in the towel but admits there is little chance of his Liverpool side overturning a three-goal deficit against Real Madrid in their second leg at the Bernabeu in the last 16 of the League the Champions on Wednesday.
Liverpool scored twice inside the opening 15 minutes in the first leg at Anfield last month, but then collapsed and lost 5-2 after holders Real produced a stunning comeback.
"Three weeks ago after the game I said Madrid was through to the next round with that result," Klopp told a news conference on Tuesday. "Now we know there is a game to play.
"(Even) if there's only a one percent chance (of us overturning the result), I'd like to try.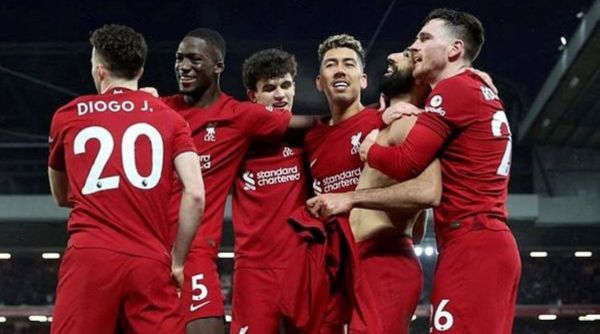 Liverpool players celebrate after Mohammad Salah's goal. (Reuters)
"We are here to play an extremely strong opponent and try to win the game. And as difficult as it is, that is probably possible. Not likely but possible, and that's why we're here. We respect the competition and the opponent too much not to look forward to this game."
Liverpool go into the match on the back of a disappointing 1-0 defeat at relegation-threatened Bournemouth on Saturday, their eighth defeat of the season in the Premier League.
But the club have often saved their best for Europe and have a history of famous comebacks.
In 2018-19 they overturned a 3-0 first leg defeat in the semi-final against Barcelona to beat Lionel Messi's side 4-0 on their return to Anfield, while in 2005 they came back from three goals down at half-time to beat AC Milan on penalties in the final.
"If we can surprise in a negative way, we should also be able to surprise ourselves in a positive way," said Klopp.
"It is clear that we are not here to say to Madrid: 'Be careful, we are coming'… But we are here to try to win the game. And to win it we have to play extremely well.
"A normal game, a good game – it won't be enough. Even just to win it – and I'm not talking about going through to the next round – we have to be on top of our game."
Liverpool midfielder Fabinho, who had a spell at Real Madrid over a decade ago, underlined the importance of approaching the clash with cool bosses.
"It's not easy to come to Santiago Bernabeu with three goals down," he said. "But I think it is necessary not to appear desperate since the start of the game.
"It's clear we need to score but I think it's more important not to concede more, 0-0 at the end of the first half would be a good score. We need to stay cool.
"Real Madrid, how can I say, they smell the blood. If you give them any chance, they're going to score and that's what we saw in the last game. We are learning and have to try to be less open."
.