Swapan Sadhu: Taking a breath, Swapan said from the other end of the phone, "I don't exaggerate as my student. One positive aspect of Jholan is that he is not proud even though he is a great player." I am lucky that he came to me.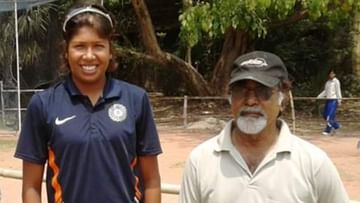 Image Credit Source: FACEBOOK
Deepankar Ghoshal
"Sir, I am speaking from TV Nine bungalow." The counter question came, about what? When I wanted to talk about Jholan Goswami, the first reaction was, 'I have neither the power nor the situation to speak. I have been sick for a long time. I left the field. I can't walk, I have to walk with a stick. 75 years old. After that I didn't have the courage to say anything to myself. No, no request was made. Jhulan Goswami's childhood coach Swapan Sadur's next comment, "It's been a long time since I met him…. Of course, I still watch the game.' Then he jogged his memory. Many memories are lost with age. As far as he can remember, shared with TV9Bangla. It was difficult to talk, but I didn't want to hang up the phone. He gave a lot of time. Talking about the beloved student was more a matter of pride than pain. In terms of cricket, Bengalis can say, as we have one Sourav Ganguly, another is the legendary Jhulan Goswami.
How was the beginning? The subject itself came into the coach's mouth. He said that my student is one of the best players in the world. Think how proud and happy this is for me…! I am wondering where to start. I don't remember much. I can't forget a few things.' With a satisfied smile, he began again, "The beginning, it might look bad now. I became a batsman. I heard that he plays cricket with the boys. While bowling, when I went to pick him up, his mother said, "Don't look, he goes outside on the roof of the house and plays with the boys." I can't, try to see if you can stop! I brought him for training. I was when he started bowling. I could not control myself. I will also tell you why I could not. I have never seen such high handed action in my life. I told him – you will bat, no doubt. Before that you have to make a bowl. I will bowl first four batsmen, then bat. His bowling started from that.
Jholan could not play sub-junior due to his age. Coach said. "He didn't get more than a month or two in sub-junior. Crying a lot I understand, if you want to play, stop crying. The player has to fight. After a few months I got a place in the junior team. that's it. He bowled so well in junior cricket that Air India offered him a job. When I was asked, I said, if you want to be a player, sign with your eyes. The year would probably be 1999, Air India had a match with British Airways. Bowled well by Jholan. It is not too late to get a chance in the Indian team.
Sighing, Sopan said from the other end of the phone, "I am not exaggerating as a student. One positive aspect of Jholan is that he is not proud even though he is a great player." I am lucky that he came to me. I still watch all his matches. After the match there is a discussion. Show him the mistakes he needs. 350 on a girl's wicket, you can imagine! A 40-year-old girl, who used to ball hard, still does. He made a world record, but that's not all.
The old man doesn't want to stop. All the doors and windows of the past have been opened for the beloved student. "He can be called a cricket saint," he said in a low voice. Let me give you an example why the next generation will love him. Jules never told anyone about them. A girl who plays well at the sub-junior or junior level is taken to a cricket equipment shop in Shyam Bazaar and buys kits. If you can't go yourself, call and let them know. Perhaps you remember your days. So think for juniors.
Old Sopan must have passed the night somehow. The beloved student asked to watch another match. Jhulan will play the last match of his career at Lord's on Saturday, the student he once touched. Maybe Sopan will retire with Jhol. Without students, cricket will not attract him!
.