It is not possible to control lumpy disease without controlling stray animals.

Lumpy skin disease (LSD) is widespread in western and northern India. Animals are getting sick and dying in large numbers in Gujarat, Rajasthan, Punjab, Haryana and Uttar Pradesh. The number of stray animals in these states is equally large. While disease viruses are transmitted through vectors such as mosquitoes, flies, ticks, and louse or chiller-like vectors, the virus is secreted in sick animals through milk, nose, water from the eyes, saliva, and blood. . If sick animals eat and drink the same water and fodder that healthy animals are eating and drinking, both types of animals have been in the same type of dirt, then the disease will spread among them.
Heavy unseasonal rains in July have led to the rapid spread of lumpi disease. By the way, scientists have also said that in the areas where lumpi has spread more rapidly, the problem of stray animals is already very serious. Actually, these stray animals move freely here and there and they are continuously making healthy animals sick. The problem has also increased because animal husbandry people are also leaving their sick animals free, due to which the number of sick animals is continuously increasing in the open roaming uncontrollably. Lumps are more likely to occur in animals that have low immunity.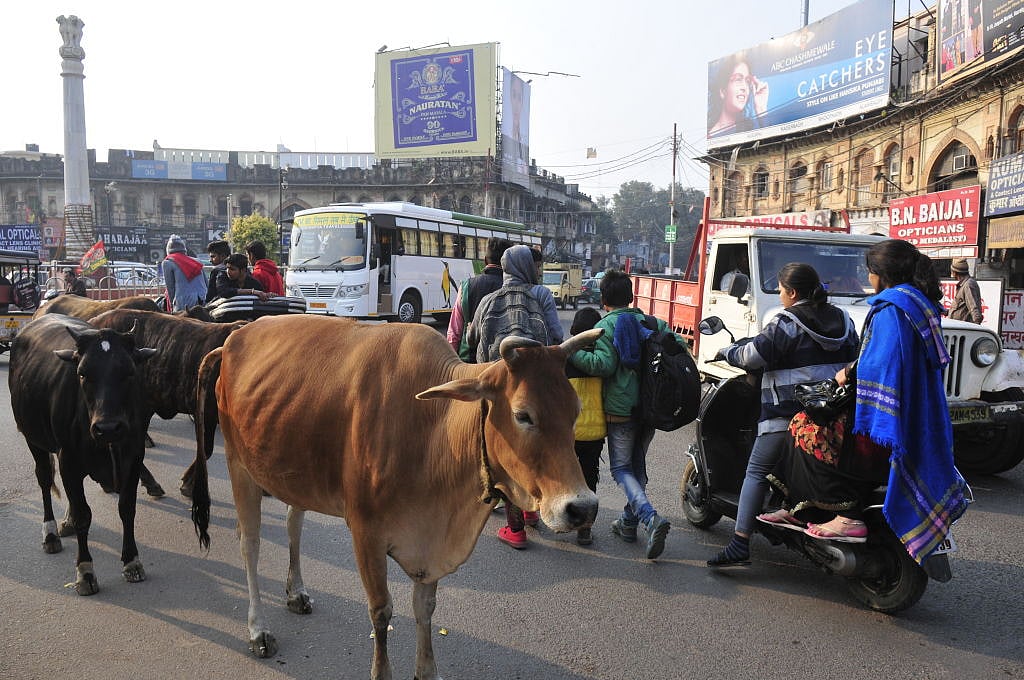 Scientists say that this defect is most common in animals running on the streets and animals living in such cowsheds where useless animals have been almost dumped. Here anyway, there is a serious shortage of fodder and water for them to eat and drink and the conditions there are also dirty. These stray animals are not born in any air. These are non-milk animals that have been left on the streets by pastoralists and farmers because no other farmer wants to buy them: either because they have stopped milking or are no longer useful or have become ill. Huh.
This may be due to drought conditions or some disease in them which has forced the farmers to isolate them from their possession. In these states, there are no buyers for these animals due to strict laws regarding sending animals to slaughterhouses. These laws have made it impossible for any kind of trade in unproductive animals.
After all, why is this not the case in Kerala and West Bengal? This is because these states have allowed the harvesting of animals, which allows traders to buy unproductive animals that no other farmer would buy. These animals are slaughtered and then beef, leather and other things are traded.
In the early 1950s, immediately after independence, laws were enacted in the northern and western states regarding the slaughter of animals. During the Congress rule in these states, Rajasthan in 1950, Maharashtra in 1954, Gujarat, UP, Punjab, Haryana became Kannu in 1955. Whichever party was in power, these laws were made more stringent day by day. In the post-2014 regime, these laws were extensively amended and with a view to making the slaughter of animals and eating beef a crime, uniform laws were made for slaughtering animals across the country. Among these, the punishment has been increased significantly – the act has been made non-bailable, the onus of proving himself innocent is on the accused and the work of carriage and trade of animals taken for slaughter has been completely banned. .
Above all, BJP-ruled states actively encourage cow vigilantes who take a particularly veiled attack on Muslims, Dalits and Adivasis for whom beef is an integral part of their diet and for whom cattle trade and cattle slaughter are their livelihoods. major part of. Due to this, the number of stray animals has increased progressively in these states.
According to the 20th Animal Census of India, the number of animals has increased by 9 percent in Haryana and up to 35 percent in Rajasthan. It tells the story of the increase in the number of animals on the roads and in the cowsheds. News reports confirm that angry farmers are attacking crop-grazing hungry cattle that once belonged to them but are now 'stray' because they are to be protected and worshipped, not slaughtered.
Recently, a painful and brutal incident came to the fore when farmers in Madhya Pradesh thrashed animals and drowned them in a surging river to 'get rid' of them. In most places around the world, lumpi have been controlled by early detection, large-scale vaccination, strict restrictions on their movement and slaughter of sick animals. In India, this problem has increased due to the irrational and idealistic attitude of 'non-cultivating animals'.
In order to keep the livestock population resilient and healthy, farmers need to understand openly and honestly that the animals they cannot keep and which no one else can, must be harvested. They have to actively raise their own demand for a system to sell such unproductive animals at a price so that they can sell them and buy healthy animals. They will have to pressurize the state governments to lift the ban on slaughter of animals and build modern slaughterhouses where animals can be slaughtered without pain.
The sad part is that most of the cattle rearing farmers do not do so because they have been trapped for generations in the hypocrisy of the Brahminical system and the caste system through which they accept without question the narrative that slaughter of cows is a sin and that eating beef is a 'defective' act. Is. Farmers from the dominant or upper castes believe that the so-called lower and marginal castes will take care of the animals once sold because it is 'their caste's job.' This thinking is at the root of creating illogical laws apart from committing violence and cruelty to both people and animals.
(Dr. Sagri R. Ramdas is a Veterinary Scientist and is affiliated with Food Sovereignty Alliance, India)
,