News Waali latest news updates.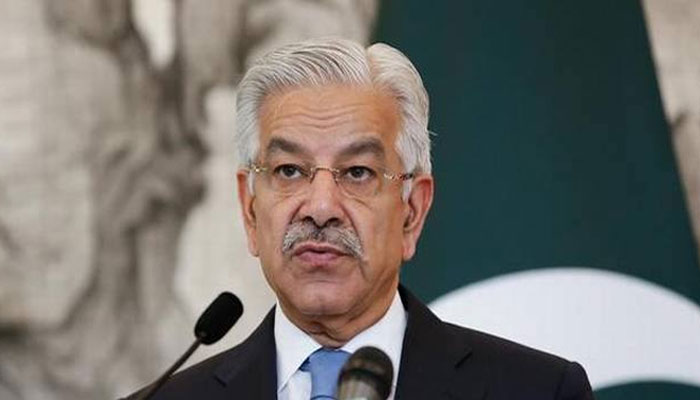 Defense Minister Khawaja Mohammad Asif has questioned why those who carved the idol of Imran Khan are not answering to the nation.
Khawaja Asif while talking to Shahzeb Khanzada on Geo News Aaj program said that Imran Khan's voice shows fear today.
He said that Imran Khan is trying to put pressure on the judiciary and other institutions, PTI chairman has also been abusing the same judiciary.
The Defense Minister further said that Imran Khan is abusing the person, who reached power by holding his finger, who carved this idol, where are they, why are they not answering the nation.
They said these are the same people, 4 benches were broken in my bail case, today the law has started to act against him, so there is crying.
Khawaja Mohammad Asif also said that we are his opponents, give us these abuses, he is not angry or bored.
He said that Shahbaz Gul, Azam Swati were arrested, after 3, 4 days they got bail from the court.
The Defense Minister said that Fawad Chaudhry should be granted bail according to law at this time, the Election Commission is the complainant in this case.
He said that the Chairman NAB was not called from the Prime Minister's Secretariat as in the past, and Bashir Memon was not called and asked to file a case.
Khawaja Asif said that if threats are made to reach the houses of Election Commission members, we should protect ourselves, anyway we will not misuse the law, which was done by Imran Khan.
He said that Imran Khan was made a complete dictator, so he made the law the handmaiden of his house, which was blind during his time and is still a tower of arrogance.
The Defense Minister said we did not do the foreign funding case, it has been going on for 7 years, the Election Commission used to delay the foreign funding case, then they did not say they were delaying.
He said that a political worker must maintain his dignity at the time of trial, we maintained it.
Khawaja Asif said that he used to monitor that we were not getting extra blankets in the jail, the superintendent of Kot Lakhpat Jail had said that the monitoring was happening.
.