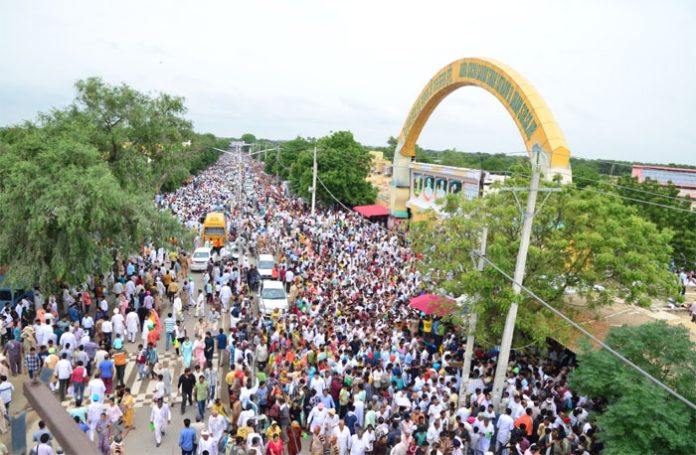 On behalf of Pujya Guru Ji and his daughter Honeypreet Insan, 132 families were given one month's ration each.
Tricycles were given to 13 disabled people under Saathi's campaign
A huge pandal of Dera Sacha Sauda was lowered in front of the Sad-Sangat
Sarsa. The 32nd Great Philanthropy Day was celebrated with grandeur at Dera Sacha Sauda on Friday. On this occasion, a discussion program on the name of Pawan Bhandare was organized at Shah Satnam Ji Dham. Despite the pouring rain, the massive pandal of Dera Sacha Sauda, ​​spread over several acres, collapsed before the immense enthusiasm of the devotees. Before the name discussion started, the whole pandal was full. Along with this, many queues were seen on the roads. On this occasion, Pujya Guru Ji sent the 12th letter to the Sad-Sangat, which was read out in the Sad-Sangat. On this occasion, 142 measures are being accelerated for the advancement of humanity. Gurmeet Ram Rahim Singh Ji Insan and his daughter Honeypreet Insan provided one month ration to 132 poor families. Apart from this, Shah Satnam handed over tricycles to 13 disabled persons under 'Sathi Muhim' through G Green S Welfare Force Wing. A freak was handed over to his family.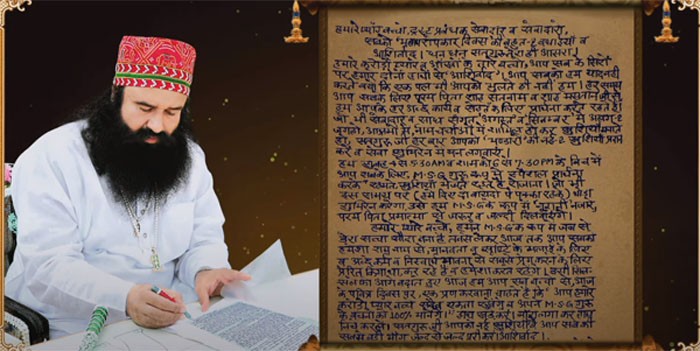 Many wishes and blessings to all our dear children, trust managers and sevadars on the occasion of 'Mahaparapkar Divas'.
Sadguru's wealth is your refuge
Millions of dear children and stars of our eyes, 'blessed' with our two hands on all of our heads. Aap sabko hum yad nahi karte because even for a moment aap bhulte hi nahi hum. At all times, we pray for your good deeds and health from Supreme Father Shah Satnam and Shah Mastan Ji. Whoever celebrates sevadar and sadsanghatana in different places, ashrams, 'namcharchalas' in 'August' and 'September', Sadhguru ji will serve you with new joy of 'Bhandarla' every time. Love Sumeeran.
We continue to send 'Rahmatten, Khushiya' to all of you as MSG Guru with special prayers from 4 to 5:30 AM and 6 to 7:30 PM every day. Whoever (हमें देय डो वीडोन पे पुक्का रहके रहके) gives a little Sumeeran at this time, We will give him a 'noorani' view like MSG, surely and the Supreme Father, God.
Our dear children, from the inception of Dera Sacha Sauda till today as MSG we inspire you all to love Ram-Naam always for the good of humanity and creation and with good deeds and selfless spirit. Did, are doing and always will. Continuing this process, today we want to take a pledge from all our children, on this day, "Our crores of dear children will always be united and follow the words of their MSG Guru 100 percent." Raise your hands. Keep your hands down by chanting. May Sadhguru Ji grant you new happiness and fulfill your great demands as soon as possible. blessing
Our dear children, the work that we as MSG Gurus have started to rid the society of evils and addictions, we are very happy and proud that you all are doing this work with body, mind and money and with full dedication. They are busy day and night. To complete the hike. We, as MSG gurus, promise that whatever service you do, Sadhguru Ram Sey will bless you and give you million fold happiness. Both places bring happiness to your body and homes. blessing
– Dasan Das
-Gurmeet Ram Rahim Singh Insan
22-9-2022
MSG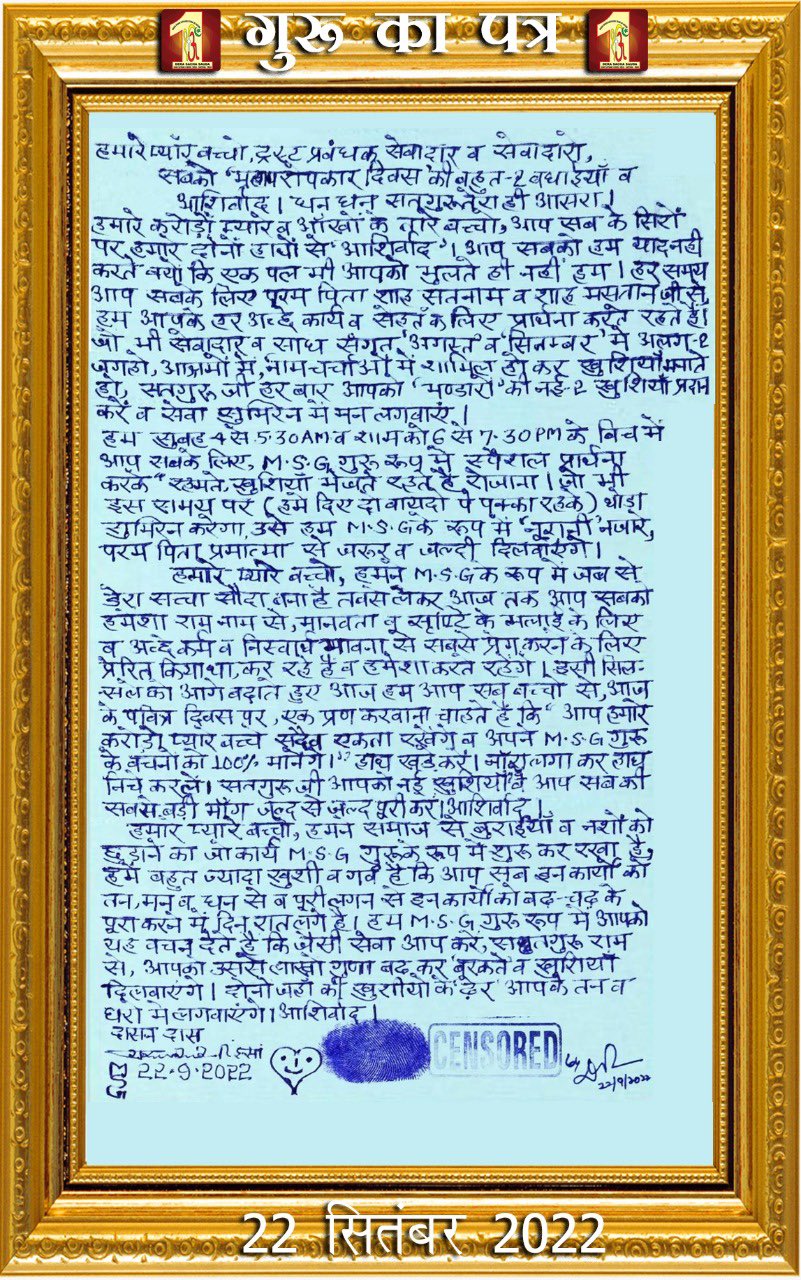 Other Update To achieve us Facebook And TwitterFollow on Instagram, LinkedIn, YouTube.