News Waali latest news updates.
A large number of potholes are scattered on the Netrang-Shewali highway. These potholes have led to a huge increase in the number of accidents.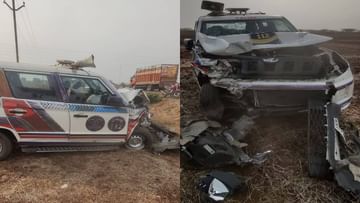 An accident between a police vehicle and a truck in Nandurbar
Image Credit Source: TV9
Nandurbar / Jitendra Baisane : An accident took place in Nandurbar in the morning when a police vehicle collided with an oncoming truck while trying to avoid potholes. An accident involving a police car and a truck took place near Sudarshan Petrol Pump on the Netrang-Shewali highway. Three police personnel including a police inspector were injured in this accident. The injured are being treated at a private hospital. There is an empire of potholes on the highway. Because of this, accidents always happen here. So now the police officers along with the citizens have started demanding that the highway administration fill the potholes on the roads immediately.
.