News Waali latest news updates.
Accurate information is a pillar of democracy and journalists play an important role in providing accurate information to the public. These views were expressed by Frankie Sturm, Public Diplomacy Officer of the US Consulate General in Hyderabad, during the first offline fact-checking workshop for Urdu journalists held at Osmania University. Frankie Sturm explains how misinformation threatens democracy.
Frankie Sturm was the guest of honor at the first offline session of the Fact-Checking Training Course for Urdu Journalists in Hyderabad in collaboration with the US Consulate Hyderabad and the Department of Journalism and Mass Communication, Osmania University. He also explained how journalists can fight misinformation for the benefit of their readers and viewers. He gave a detailed talk at Osmania University in a conference on prevention of fake information to Urdu journalists.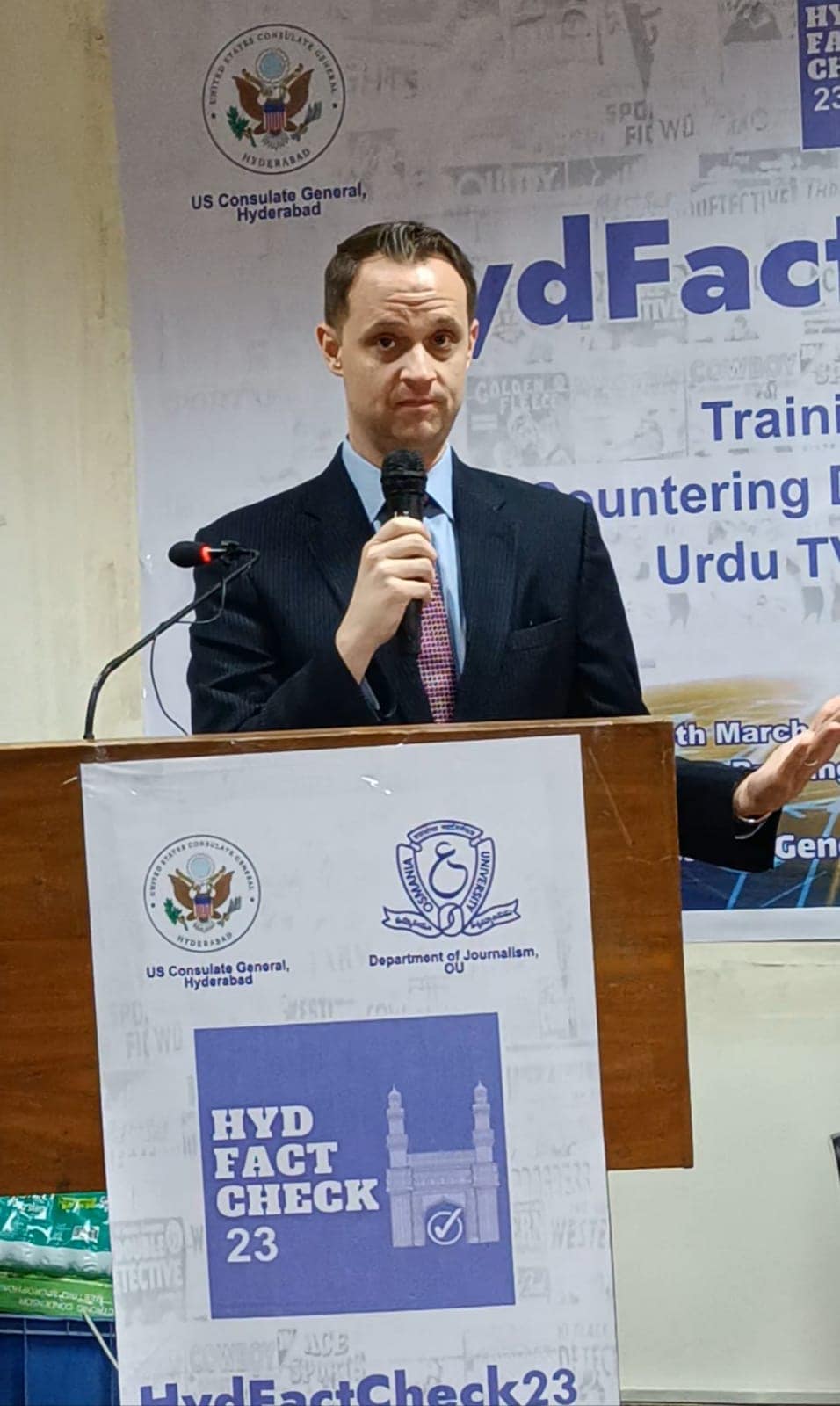 Frankie Sturm, Public Diplomacy Officer at the US Consulate General in Hyderabad speaking.
'Correct information should be published'
According to the organizers of the workshop, around 35 Urdu journalists are being trained in the said workshop. The main objective of this workshop is to eliminate fake news and bring out the facts. In the first phase, around 40 Telugu TV journalists were successfully trained and certified.
Deputy Commissioner of Police (Cybercrime), Hyderabad Sneha Mehra speaking.
Franky Sturm said I am thankful to Osmania University for organizing this excellent program for Urdu journalists and I am sure after this program the trend of spreading more accurate information will develop and help against fake news and will get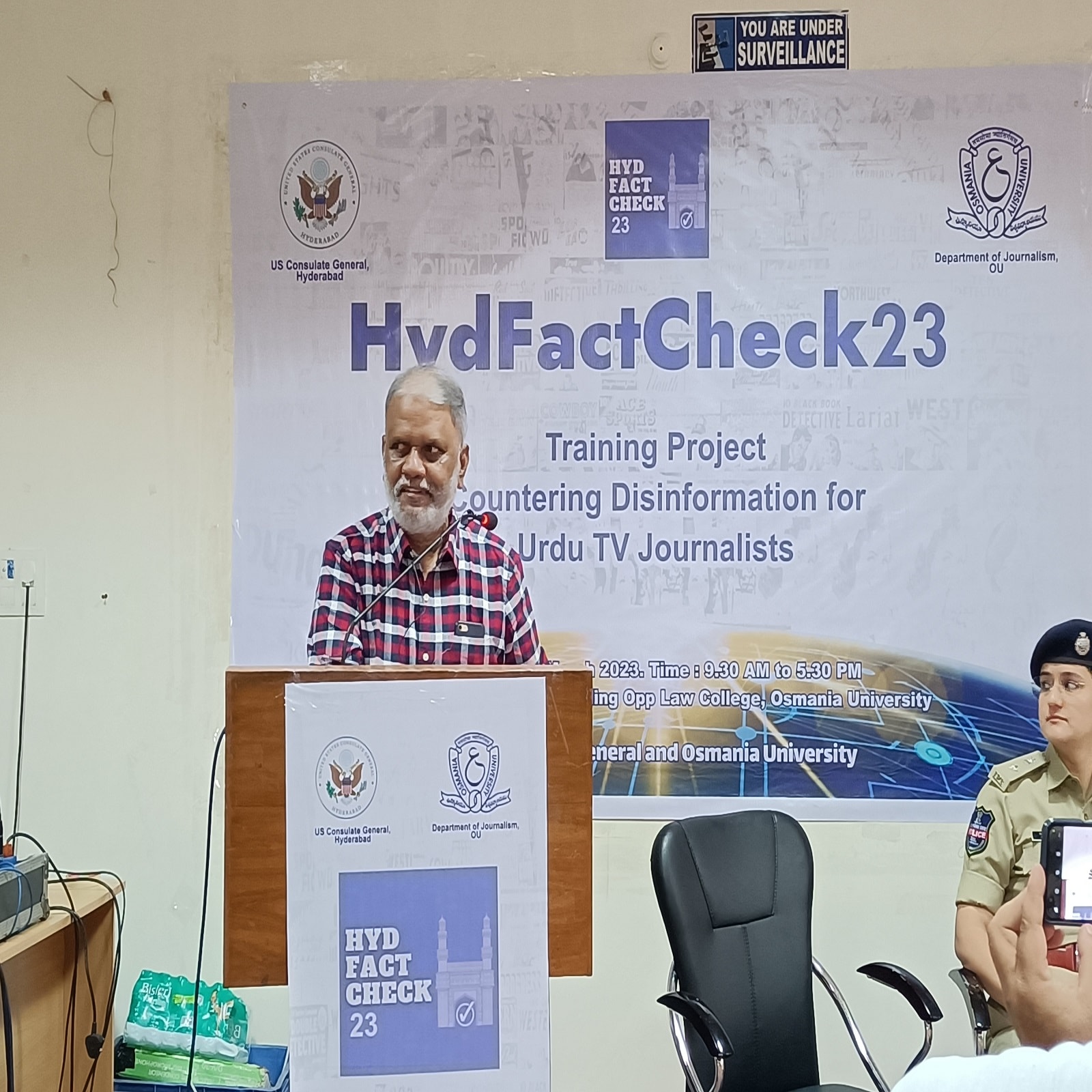 Professor Stevenson Kuhir, Head of the Department of Journalism and Public Broadcasting at Osmania University also spoke.
Professor D. Ravinder, Vice-Chancellor of Osmania University, reminded that Jamia Osmania (now Osmania University) had introduced the Urdu language as a medium of education for the first time in history and that the Urdu language had been used as a medium of education here since years. he remained He also said the university had a long association with the US Consulate. Professor D. Ravinder thanked the US Consul General for supporting the fact-checking workshop. He also said that the university plans to start a cyber security course from the next academic year.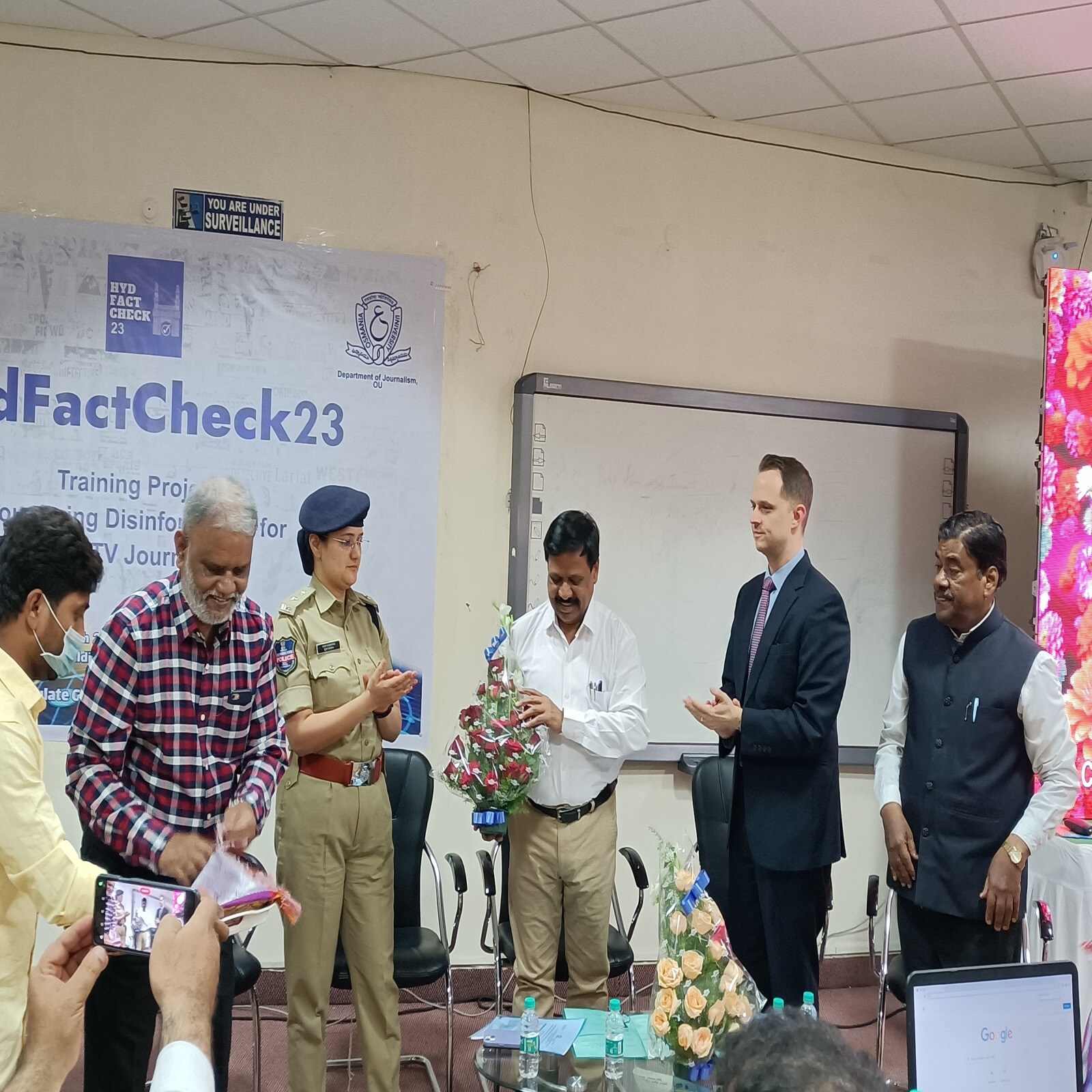 Welcoming the guests with a flower presentation and a shawl presentation
Importance of Research:
Deputy Commissioner of Police (Cybercrime), Hyderabad Sneha Mehra emphasized the importance of research and investigation in her address. Referring to this, he said that India is one of the top three countries that spread misinformation on social media. Fake news has increased during the global epidemic of corona virus, elections, farmers' protests and elections. He lamented the lack of accountability on social media platforms.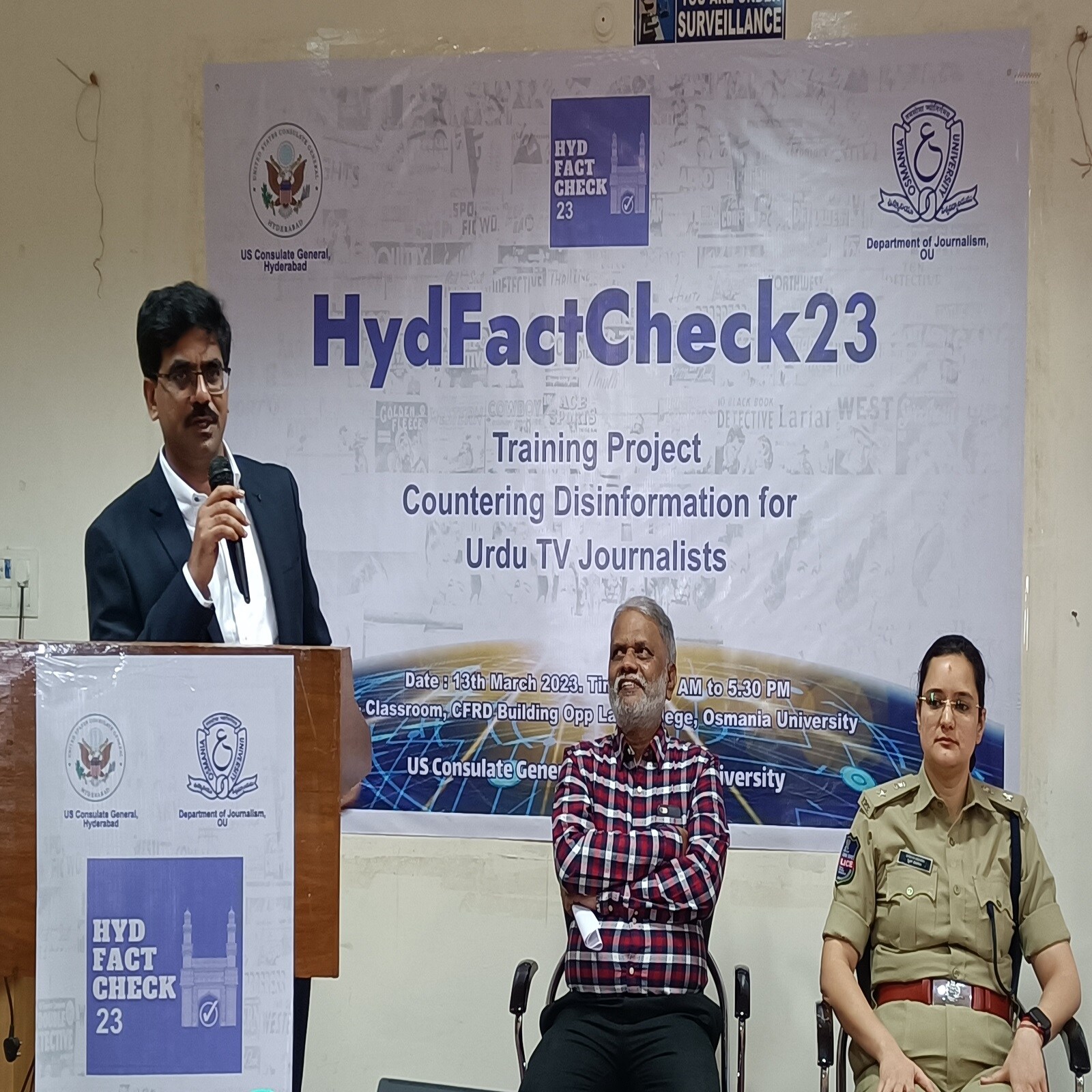 GNI Lead Trainer and U Data Leads Sudhakar Reddy delivered the closing remarks.
Sneha Mehra said media literacy and transparency on the part of the government can help the situation. We really need social media user accountability and more independent fact checking. Misinformation can be prevented through critical thinking, accurate content delivery and digital literacy. He pointed out that the lack of adequate resources to combat misinformation on social media is harming people.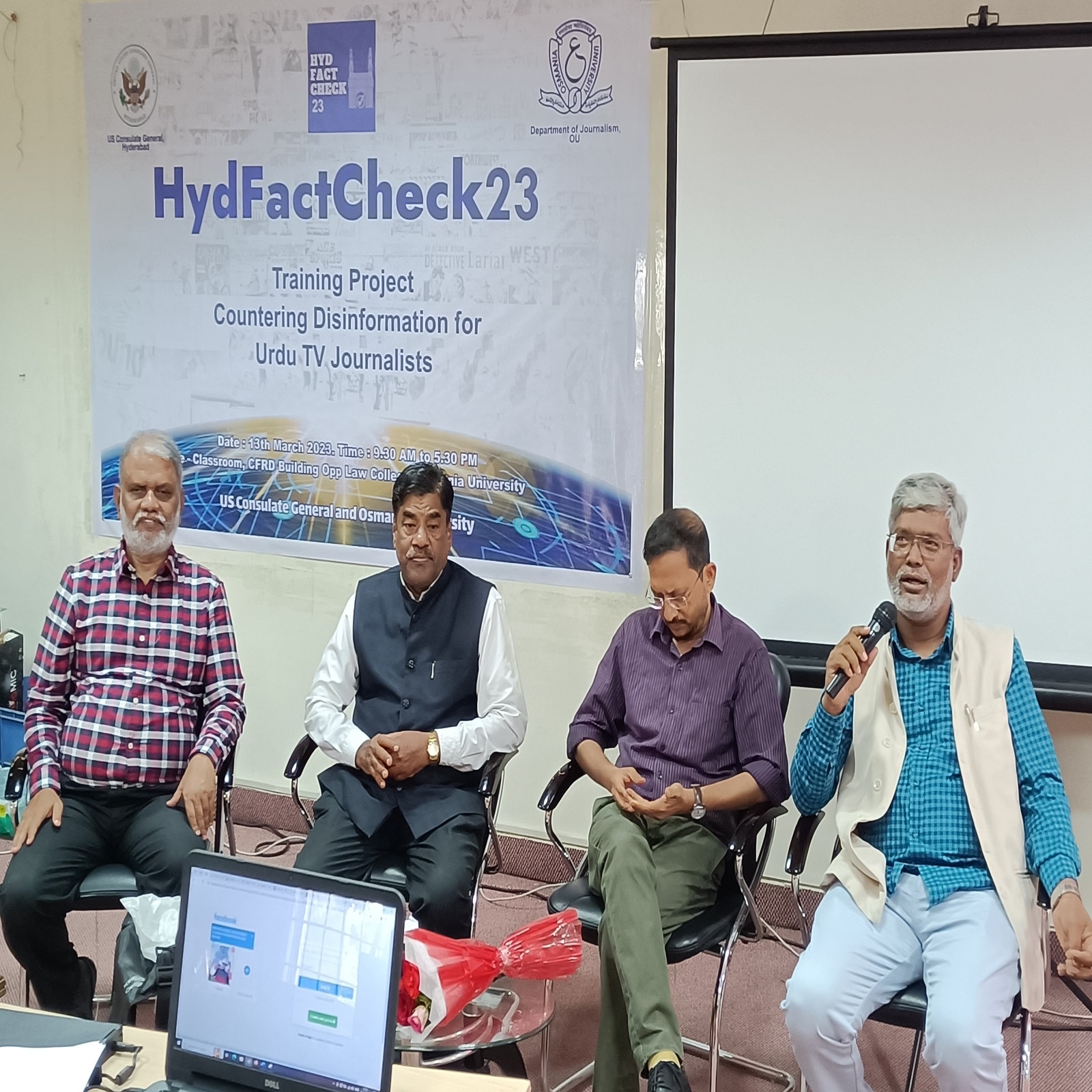 A panel discussion was also held.
Procedure for reporting news:
Professor Stevenson Kohir, Head of the Department of Journalism and Mass Communication at Osmania University, welcomed the participants and thanked the American Consul General for their cooperation. Explaining the objectives of the project, he said that it is intended to familiarize Urdu journalists with fact-checking skills, tools and techniques to prevent the spread of wrong information in the mainstream media while reporting news that may end. He said the project was 40 hours in combined mode and had 35 TV journalists from mainstream Urdu channels and digital platforms. About 20 percent of the trainees are women journalists, and five are students at the Maulana Azad National Urdu University (MANUU).
Students from Maulana Azad National Urdu University (MANUU) are also included in the course.
Cluster of Urdu Journalists:
In the said fact-checking, national and international experts have been involved to train the participants. In his closing remarks, GNI Lead Trainer and Data Leader U Sudhakar Reddy hoped that the program would help in the development of a strong fact-checking group in Urdu.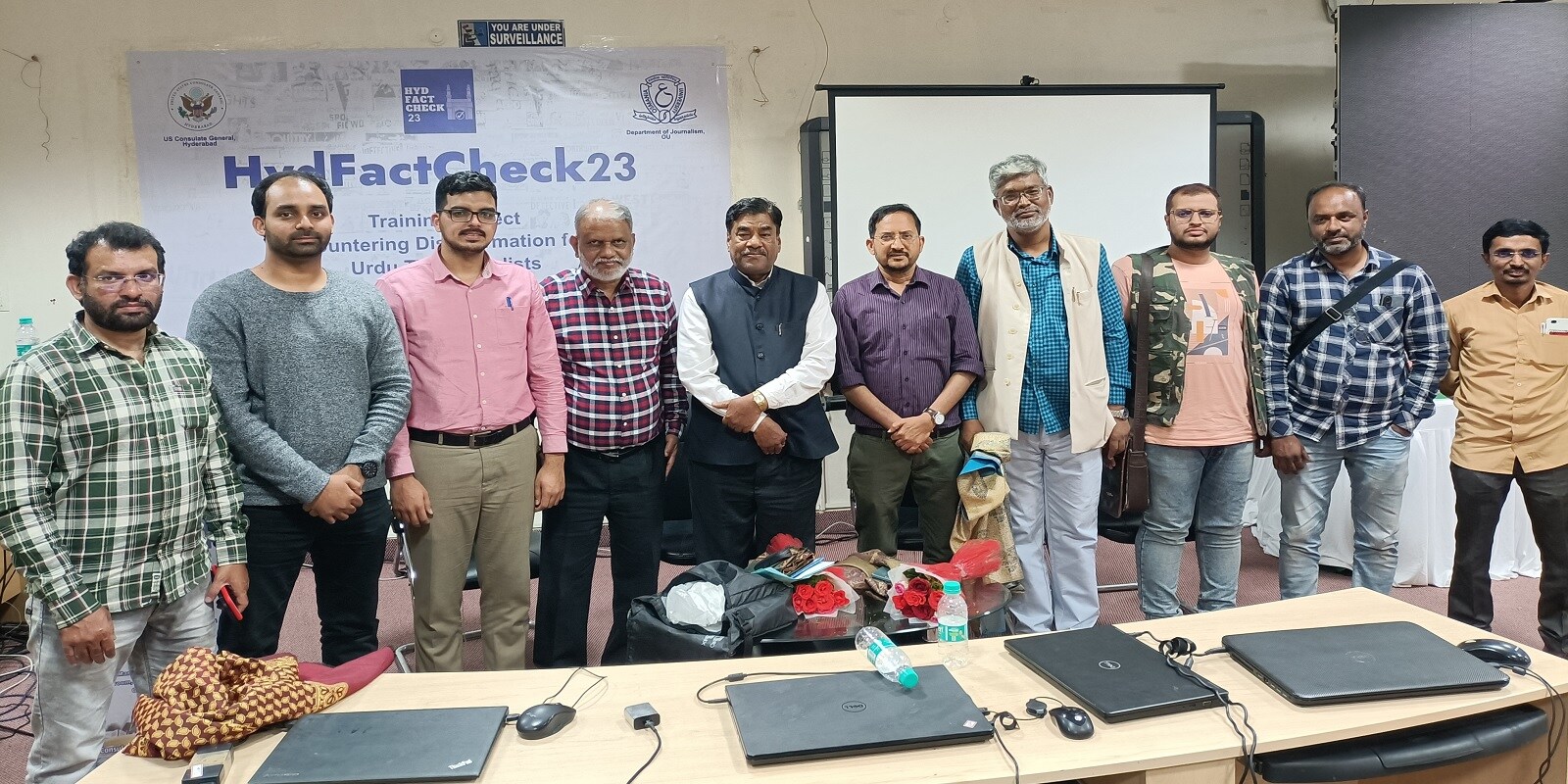 Professor Stevenson Kuher welcomed the participants and thanked the US Consul General for their support.
MA Majid, member of the Press Council of India and journalist FM Saleem also addressed the programme. Syed Ghos Mohiuddin IND Today, Syed Ahmad Jilani, News18 Urdu, Syed Wajid Hussaini T News, Naeem Ghori TTV, Muhammad Abdul Mohsen BBN, Dr Muhammad Asif Ali Ruby Channel, Muhammad Amjad Ali BBN News, Syed Khalid Shehbaz Ghuwa Weekly and TV, Was Mohammad Rehman Pasha News 18 Urdu, Sheikh Mohsin Ali Munsif TV, Shahida Bano TTV present.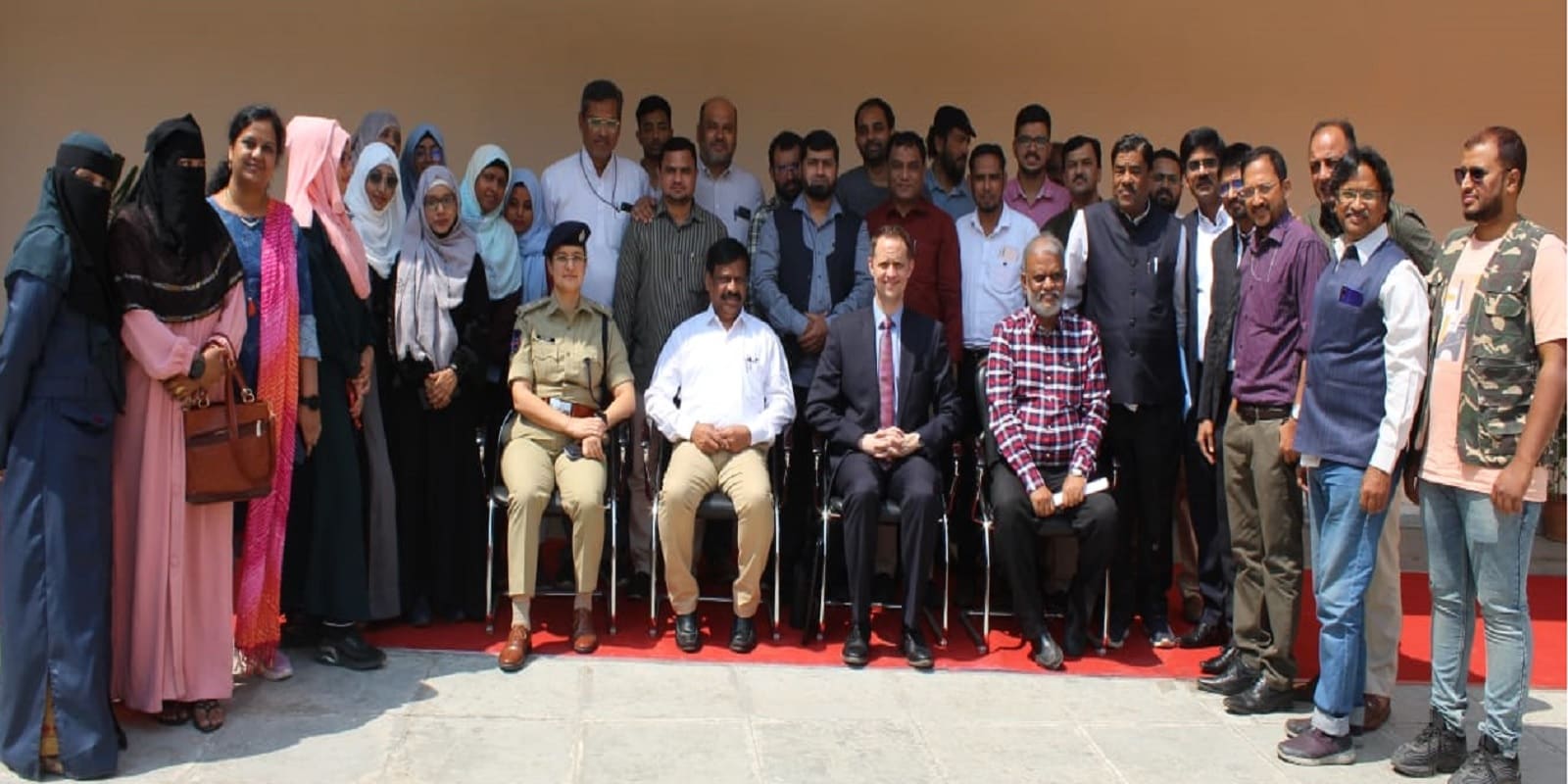 Journalists of all ages participated in that program.
Among these participants were the following journalists:
Also read:
BBN News Shah Khalil Farhad, Syed Baqir 4 TV, Syed Qudratullah Qadri Bizm Aina Kurnool, Syed Mutjaib Mohiuddin, Ayesha Batul, IND Today, Abdul Rahman Bin Ali Bawazir BNN, Khawaja Abdul Hameed Justice Times,
Muhammad Akbar Sharif Ruby Channel, Shahida Begum 4 TV, Maulana Azad National Urdu University Journalism and Broadcasting students Uzma Sadaf, Parveen Naz, Nazla Siddiqui, Khadija Khatoon, Asma Begum and Abdul Raqib Naumani were also present.
Read Urdu News First on News18Urdu, Breaking News in Urdu. Today's latest news, live news update, read the most trusted Urdu news, on news18 urdu.com, know all the details related to your state, country and foreign and especially Middle East, entertainment, sports, business, health, education and employment. Follow News18 Urdu on Twitter, Facebook, Instagram, YouTube, DailyHunt, ShareChat and Quoap.
.