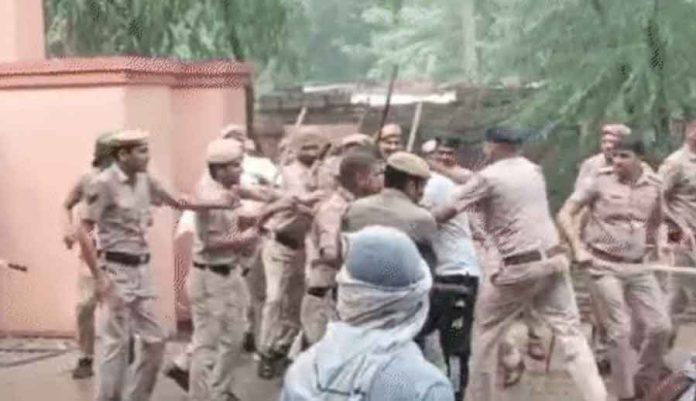 Hisar (Real News). Angered by the death of Vikram, a Dalit youth from Kapado village in Hisar district, 14 days after the accused have not been arrested, the victim's family members and Dalit communities protested at various intersections in the city on Wednesday. They took out a rag march and protested in front of the Hisar Minor Secretariat. Despite the heavy rain these people continued to perform without stopping. People from Dalit communities who had come to surround the DC office tried to enter the gate of the small secretariat but were stopped by the police. On this occasion, an argument broke out between the police and the protesters, and the police lathi-charged the protesters.
Also Read:- Gunshots, panic in lawyer's chambers
On the other hand, the protesters pelted stones. Bhim Army leaders Pradeep Bhankar, Santlal Ambedkar and lawyer Bajrang Indal said that the district administration is adopting a lenient attitude regarding the death. He accused the police of taking the side of the killers and protecting them despite providing strong evidence of Vikram's death. In this case
The real truth will come out if the accused are strictly interrogated. The affected families and Dalit communities have decided to intensify the agitation now. If the district administration does not learn a lesson from the Hisar bandh, the victim's family will have to take a big step again.
Other Update To achieve us Facebook And TwitterFollow on Instagram, LinkedIn, YouTube.