News Waali latest news updates.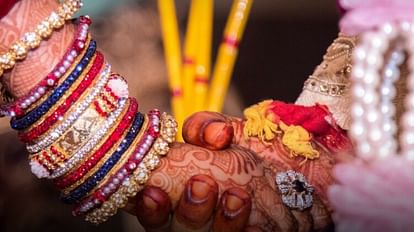 Assam child marriage
– Photo : Agency (File Photo)
Expansion
Of the 8,773 people accused in child marriage and POCSO cases in Assam, only 494 have been convicted. Chief Minister Himanta Biswa Sarma gave this information on Monday.
Responding to a question by Congress MLA Abdur Rasheed Mandal in the Assam Assembly, Sarma said that between 2017 and February 2023, a total of 8,773 people have been booked under the Prohibition of Child Marriage Act 2006 (PCMA) and Protection of Children from Sexuality. Crimes Act, 2012 (POCSO) The charge sheet was filed under. Of these, a total of 494 were found guilty and a total of 6,174 people were released on bail. During this period, 134 boys under the age of 21 and 2,975 girls under the age of 18 were found to be married. Responding to these action figures against child marriage, Abdur Rashid Mandal said, the Assam government is scaring the public by misusing these two laws.
ED has so far seized Rs 111 crore in a Bengal teacher recruitment scam
The Enforcement Directorate (ED), which is investigating the notorious teacher recruitment scam in West Bengal, has so far attached assets worth Rs 111 crore. ED has given this information in the CBI special court. It states that the properties of former education minister Partha Chatterjee, former chairman of the Primary Education Council and Trinamool MLAs Manik Bhattacharya, Kuntal Ghosh, Tapas Mandal and Shantanu Banerjee who were arrested in the case have been seized. According to the information, it includes 111 crore rupees along with cash, jewelery and property seized from them. It is worth noting that CBI is investigating this matter along with ED.
,