Bengali Style Chicken Curry: If you cook chicken in this way, you will get the taste of dhaba at home.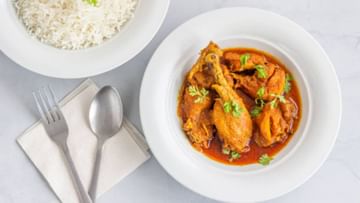 Dhaba Style Chicken Curry
Sunday means special food and drink at home. And on that list would be meat. Sunday is a holiday. The remaining tasks of the entire week are completed on this one day. As a result, the work on this day is much more than other days. His satisfaction is different when he gets hot bread and rice at the end of a whole evening's work. Some like meat, some like chicken. Some are broths, some are broths. However, there is no other day like Sunday to savor fresh meat over hot rice with the flavor of winter. The fun of going outside on a winter day is different. And at this time it is good to sit and eat at any court. After a long drive and a dhaba meal, there's nothing more to ask for on a Sunday. And then make this dhaba style special chicken curry at home today. Made with love, the taste of Dhaka can be found at home. Everything you need to make this special chicken.
Chicken- 1 kg (small piece) Ginger- 2 spoons Garlic paste- 2 spoons chopped onion- 1 cup Coriander powder- 1 spoon Cumin powder- 1 spoon Red chilli- 1 spoon Garam masala- 1 spoon Tomato paste- 5 spoons Raw chili flakes – 4 pieces
Make it that way
Wash the chicken pieces well and marinate them with ginger paste, salt and 1 tbsp of white oil. Now cover it and keep it in the fridge for 2 hours. Heat mustard oil in a pan and add cinnamon, coriander leaves, cloves and onions and fry well. Now add ginger, garlic paste, coriander powder, cumin powder, red chilli powder, turmeric and grind it well. Now grind the chicken pieces again in the spices. Reduce the gas flame and cook. Blend the tomatoes and green chillies together in a mixer. Now mix it in the chicken. Add salt to taste. When the oil comes out, add some coriander leaves in it. Cook again for five minutes and add garam masala. Let it boil with little hot water for three minutes. When the water dries up, the dhaba chicken is ready.
.