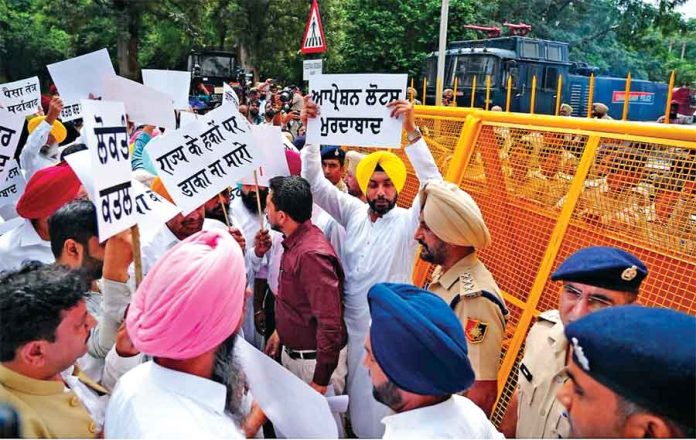 Revoking the Governor's decision after approval is a mockery of democracy.

Stopped by the police on the way, the 'Aap' MLA returned after two hot hours

The MLAs warned that they would approach the Supreme Court against the Governor's arbitrary and anti-people decision
Chandigarh. (Clearly/Ashwani Chawla) After Punjab Governor Banwari Lal Purohit gave permission for the meeting, Aam Aadmi Party MLAs protested against the decision to cancel it. For the first time, the MLAs of the ruling party not only marched against the Governor of Punjab but also violated the speech limit regarding the Governor. The Aam Aadmi Party named it the Peace March, but instead of peace, the march turned chaotic and angered MLAs. If the 'AAP' MLAs from CM Bhagwantman to Cabinet Ministers did not join the march, they put up barricades near the High Court Chowk, away from the Assembly.
Also Read:- Punjab MLA's father swallowed poison and joined DMC
The MLAs sat and raised slogans for almost 2 hours, so they called off the march after 2 hours due to the heat. From the Punjab Vidhan Sabha to the High Court Chowk, AAP MLAs and activists held banners saying 'killers of democracy' and 'democracy is being killed by Congress-BJP' and 'stop operation lots' and raised slogans against the opposition. The legislators termed the governor's decision to withdraw the earlier orders to call a special session a 'mockery of democracy'. MLAs said that opposition parties including Congress, Akali-BJP are working together to undermine democracy. He will reverse his every evil agenda. The MLAs alleged that the Congress is the 'B-team' of the BJP and is working only for the saffron party.
He is a murderer of democracy. He said that the governor canceled the visa session on BJP's call and even opposition leaders were dancing to BJP's song to save their positions amid threats of CBI and ED raids. He said that the 'AAP' government will hold a special meeting of the Vidhan Sabha on September 27 to discuss various issues related to the state and will approach the Supreme Court against the unilateral and anti-people decision without taking the Governor's approval. Cabinet approval
Other Update To achieve us Facebook And TwitterFollow on Instagram, LinkedIn, YouTube.