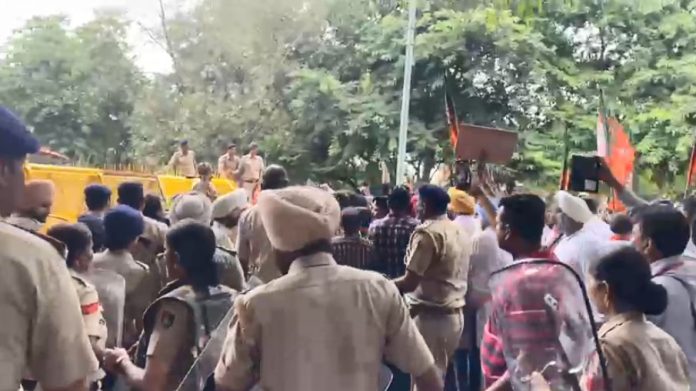 Chandigarh (Ashwini Chawla). The Punjab BJP today came out to lay siege to CM Bhagwant Mann's residence, but was stopped by the police with barricades. When the BJP workers tried to advance, the police fired water cannons. The BJP workers reached CM Mann's residence holding banners and shouting slogans.
what is the matter
The Bhagwant Mann government called a one-day special session, but the governor did not sanction it. The session was supposed to be called amid allegations of Operation Lotus by the Aam Aadmi Party (AAP) government. , like the Delhi government, by presenting this proposal, she wanted to show that all the MLAs are united and nobody can bribe them. Meanwhile, the permission of the governor to hold meetings was cancelled. Even the opposition did not agree that when no one challenged AAP, all the MLAs were united, then what was the need to show. What is the need to waste public money. BJP has announced that they will besiege Vidhansabha tomorrow. The party said that the meeting was organized to divert public attention from the government's failure. Congress said it was ridiculous.
Other Update To achieve us Facebook And TwitterFollow on Instagram, LinkedIn, YouTube.