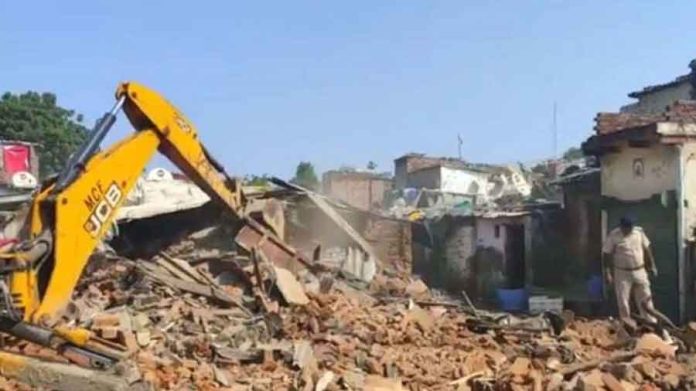 21 cases have been registered on murder, robbery, smuggling of liquor and drugs

Bijendra alias Lala, a resident of Faridabad, died in jail
Faridabad (Such Kahun News). The black empire of gangster Bijendra alias Lala, the biggest face of drug trafficking in the city, was busted by the administration and a team of police on Tuesday. In Lala Sector-22, 18 buildings were constructed by illegal encroachment till 2011 when the administration bulldozed them. Let us inform you that Bijendra alias Lala, resident of Faridabad city, died in jail some years ago. He started illegal liquor business. After this he gradually entered the world of serious crime along with drug addiction. Along with alcohol, he also started dealing in drugs to stay at the top of the crime world. Lala's list of crimes in Faridabad police records is long. 21 cases of murder, attempt to murder, fights and smuggling of liquor have been registered against him.
Also Read:- Tragic: Car driver burnt alive in Jind
18 buildings on government land
Police Spokesperson Subey Singh said that in the last few days, the police have destroyed many illegally acquired properties. 18 buildings including 11 shops, 3 houses, 3 godowns and 1 office built by drug peddler Lala collapsed at Central Public Works Department site on Tuesday. Of the 35 acres of central government land, about one and a half acres have been illegally encroached at many places.
A year ago, Rs.1.31 crore was recovered
A year ago, the Faridabad Crime Branch border team raided the house of a relative of the city's biggest drug smuggler Bijendra alias Lala and found a bag full of Rs 500 each, about Rs 1.13 crore. Lala's cousin Amit, a resident of NIT, was caught on the spot. Brother-in-law of Sumit Bijendra.
Other Update To achieve us Facebook And TwitterFollow on Instagram, LinkedIn, YouTube.