Stranded whales in Tasmania: Macquarie Harbor on the coast of Tasmania is called the 'Gateway to Hell'. Hundreds of whales were stranded there.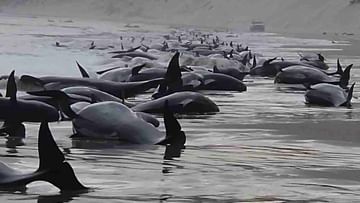 Hundreds of whales are stranded on the coast of Tasmania
Canberra: Hundreds of whales are beached. Last Monday, 14 sperm whales were stranded on an island off the northwest coast of Australia. This time, at least 230 whales are reported to have escaped off Tasmania's west coast. Tasmania's Department of Natural Resources and Environment said on Wednesday (September 21) that the whales had washed up on a beach in Macquarie Harbor on the Tasmanian coast. They are pilot whales. At least half of them are believed to be still alive. They also said a team from the Marine Conservation Program was on its way to the scene with whale rescue equipment.
The entrance to Macquarie Harbor is so deep and so dangerous that it is called 'Hell's Gate'. About 470 large pilot whales were stranded in this harbor two years ago. Their rescue operation continued for a week. Most of the whales died, but 111 were eventually saved. However, this time the challenge of rescue work is considered more difficult than before. Because 2020 whales were in port. The water there was calm, and it was possible to approach them by boat. As a result, rescue also became easier. However, this time the whales are beached. There the sea swells and swells. That is why they are trying to save them by taking them in a car.
But why are scorpions trapped? Marine biologists said it was not immediately clear why and how the whales washed ashore. The same type of whales are often stranded in the same place at the same time of the year. This suggests that there may be some environmental factors behind it. Meanwhile, Tasmania's West Coast municipalities have urged local residents not to travel to coastal areas. "Whales are a protected species," says the Tasmanian Department of Environment. It is a crime to tamper with their bodies even after death.
.