News Waali latest news updates.
It has come to light that this tanker mafia is selling water by stealing water from Kalyan Dombivli municipality. It has also emerged that tanker mafia is the cause of water problems in Dombivli.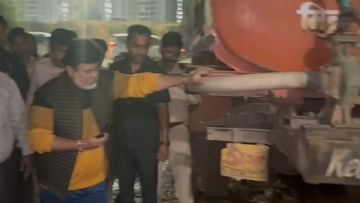 Thane: Uday Samant attacked the tanker mafia in Dombivli at midnight. The tanker police seized the factory which was stealing water from Kalyan Dombivli municipality and sold it. The reason for Dombivli's water problems is that a tanker mafia used to steal municipal water and sell it to citizens at double or triple the price. This cow business is going to stop now. Many villages in Dombivli city are facing water shortage in the last few days. So this whole part depends on the tanker. This led to the rise of a tanker mafia in the area. Water was being supplied to the people here at double the cost through tankers.
.